Clarendon Equestrian Ltd.
HOME
|
Pro Work Boot
|
Schooling Boot
|
Hunter Boot
|
Competition Event Boot
|
Premier Dressage
|
3 Day Event Boot
|
Tendon Boot
|
Fetlock Boot
|
Knee Boot
|
Hock Boot
Fetlock Boot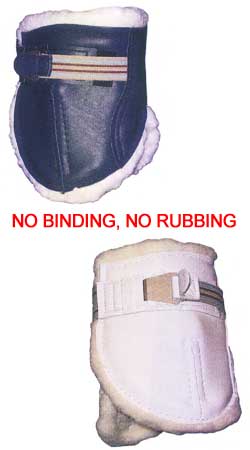 A very light boot used to protect the hind fetlock from brushing.
Generally Used:
Show jumping, Hunting and Cross Country.
Constructed with a tough synthetic leatherette outer, for durability and ease of cleaning, the boot is lined with high quality fur to ensure a perfect comfortable fit, that allows air circulation to keep your horseís legs cool. Sandwiched between the inner and outer layers is a 6mm layer of high impact resistant foam.
Fastened with Clarendonís unique system of 25mm elastic and Velcro straps, which are securely held in place by stainless steel hooks. These ensure the boot straps will not undo thus making it unnecessary to over tape. The elastic is made exclusively for Clarendon. Itís elasticity and strength is very important, and should never be substituted.
Availability:
Navy, Black, Brown, Pink or White with cream Fur or Black with Black Fur.
Size:
Pony
Horse
Large
NOTE:
Cleaning and washing after use, hose down or wipe exterior and brush lining. Machine wash when these methods prove unsuccessful. Warm wash 30íC spin dry Avoid heavy soil cycles and strong biological powders. Do not tumble dry. Dry in warm atmosphere. Do not place against hot surface e.g radiator or boiler. Important keep Velcro straps clean of fluff and stable debris. When machine washing always fasten all straps.